New Entaksi signature app
News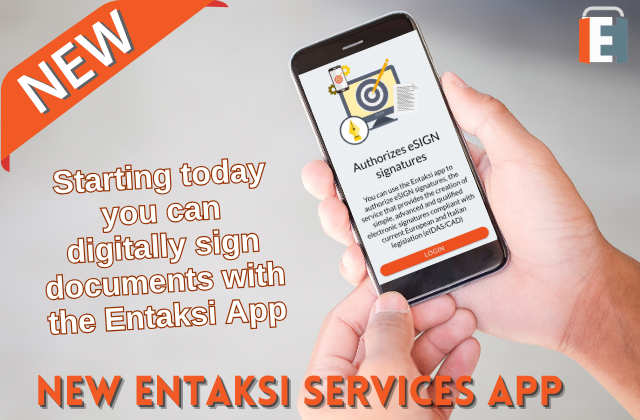 18 September 2023
With eSIGN it is now possible to sign documents on app
eSIGN, Entaksi's electronic signature solution that allows to apply advanced electronic signatures remotely, starting today is enriched with a mobile application that allows the user to authorize the signature in a simple and secure way.
Using this new solution, the signer can authorise signatures directly from his device, without requiring a One-Time Password via SMS to be sent to his mobile phone and to be used in the web page in order to confirm the signature process.
The app, available for both Android and iOS, must be installed directly on the signer's device.
It can be installed both on Google Play Store and Apple Store.
The link can be reached both from the signature request page via the QR Code displayed, or through the search function with the keywords "Entaksi Solutions".
The configuration is quick and easy, thanks to a simple guided workflow.

Once the mobile application has been installed and configured, the signer can use it to authorize the signing of documents and to consult the list of documents selected.
At the end of the process, by entering a personal code, the documents will be signed in a secure way, compliant with current legislation.