Entaksi Solutions SpA becomes QTSP eIDAS
News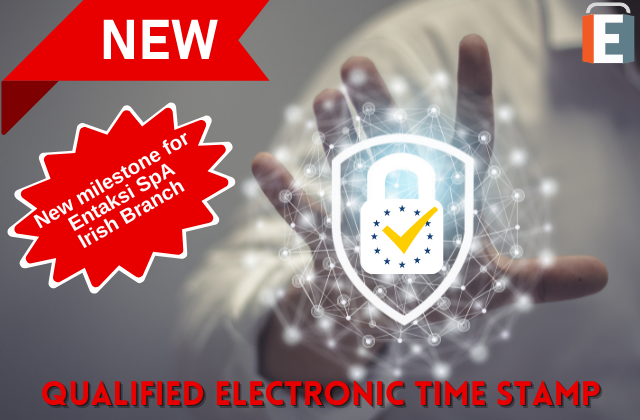 18 July 2023
Entaksi Solutions SpA Irish Branch joins the limited number of Qualified Trust Service Providers pursuant to the eIDAS Regulation
We are glad to announce that, through its Irish Branch, Entaksi Solutions SpA has been registered in the European list of Qualified Trust Service Providers (QTSP), required by eIDAS (EU Regulation No. 910/2014), for the digital preservation of qualified electronic signatures and seals and qualified electronic time stamping.
This important result concretely demonstrates the strong commitment and the ability of the Company to pursuit and implement its business plan for development and opening up to the European market.
The next short-term target is to extend the QTSP accreditation to the service for the supplying of qualified certificates for electronic signatures and seals.
So, from today, the Company therefore expands its commercial proposal to the provision of Qualified Trust Services for the long-term preservation of electronic signatures and seals and timestamps in Europe.
After having already obtained the ETSI EN 319 401 and ETSI TS 119 511 certifications concerning the of the qualified preservation service for qualified electronic signatures and seals in 2022, Entaksi has now obtained the ETSI EN 319 421 and ETSI EN 319 422 certifications, necessary for the provision of the Qualified Time-Stamp Authority Service, in accordance with the eIDAS Regulation (electronic IDentification Authentication and Signature) - EU regulation n° 910/2014 on digital identity.
This regulation aims to provide a regulatory basis to all the European Community for trust services and the systems of electronic identification among the member states.
Since the registration in the EU Trust List on 14/07/2023 Entaksi Solutions SpA Irish Branch becomes part of the QTSPs authorized to provide their qualified services within the European Market.