Preservation Console changes its look
News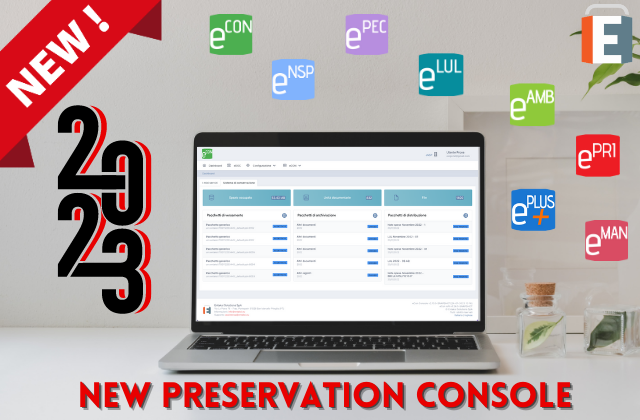 31 January 2023
New graphic style for all preservation services provided by Entaksi
Entaksi features a new graphical style for the preservation console.
The new, more dynamic interface makes the service pages more compact and intuitive, making them easier to use.
In this new console Entaksi's staff has also implemented some improvements requested by the users and emerged in the satisfaction questionnaires:
Facilitated the "Change company" functionality. If the user is enabled on multiple companies at the same time, the company change function has been facilitated. In fact,with the new console, it is possible to change company without leaving the current job page with a simple click.

Menu items reorganization. Menu items have been rearranged and simplified in order to make the various functions search easier.

Made the "Search and Request LULs" functionality easier. The "Search and Request LULs" functionality has been greatly simplified. Thanks to a guided workflow in various sequential steps, the user can simply fill the request by entering the search parameters and, in the final step, request the DIP.

Simultaneous multiple selection in the lists. In the "Search and Request LULs" function the simultaneous multiple selection function in the lists has been added. Previously the system allowed to perform a multiple selection of values by typing or scrolling through lists but not simultaneously: in order to select multiple values, the user had to enter the list several times. With the introduction of this new feature, the user can select multiple values at the same time without leaving the list in order to perform a multiple search.

To Download multiple DIP .zip files simultaneously. In case a DIP is made uo by several .zip files, the new feature of simultaneous download of all files has been introduced. In case the user wishes a specific file, the possibility to download only a file among those generated is still present.
With the release of the new interface, the user manuals for the concerned services have also been revised and updated:
eCON Entaksi Solutions' certified digital preservation service in compliance with the law;

ePLUS the service for the dematerialisation of IT document management processes;

ePRI the service for the IT protocol recording and managing;

eNSP the service for the dematerialisation of expense reports;

eCON LUL the dedicated service for the preservation of the Single Labor Register (LUL) in compliance with the law;

eAMB the service dedicated to the management, sending and prewservation of the Waste Identification Forms (FIR) in compliance with the law.